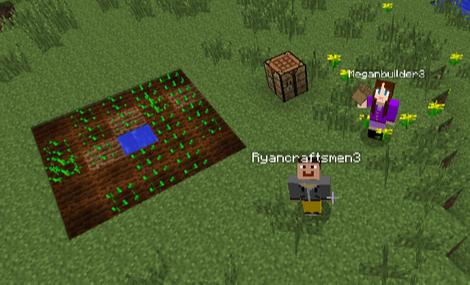 The challenges
As a team, we will be commissioned to create worlds for student learners at GEMS.

January 27: Exploring MinecraftEDU worlds:

Please go to the MinecraftEDU World Library web site. You will be reading about different worlds that other teachers and students have created.

You will be completing the following work on a GoogleDoc. Please share your completed doc with dpayne@fwsu.org.

Task One: After you have looked at many of the worlds, choose four that you think would be useful in our school (2nd-8th grade.) Please provide the name of each world, the link to the page that it is described on and a brief statement of what you like about it.

Task Two: Now consider things that you have learned/studied in 2-8th grade. Come up with two topics that you think we could create worlds to teach-- and explain the basics of how the world would be set up. What limits would you place on players? What roles would players be given in the world? What tasks would they have to complete? Would it be creative or survival? (The picture to the left is of two 6th grade "colonists" working on their Minecraft colony-- notice that they have different roles- craftsman and builder.) You do not have to write in full paragraphs-- just jot ideas down. Lists are fine. We will use these documents to plan our work in this class.
What is Minecraft Masters?
​There is a whole library of MinecraftEDU Worlds which have been created for K-12 grade students as immersive learning environments. At GEMS, the Innovation Lab has been approached about adding to that library. Bring your knowledge of science, social studies and literature into play as we work in teams to create learning playgrounds to use at school and publish!